A Quarterly Look at the World of WABCO
PRODUCT NEWS
+ ZF PowerLine 8-Speed Automatic Transmission Delivers Power, Efficiency, Safety and Reliability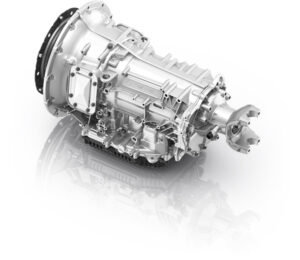 ZF PowerLine is an innovative torque converter 8-speed automatic transmission engineered for commercial vehicles. With its modular design featuring different launch elements, PowerLine can be the ideal solution for the medium-duty truck segment of up to 26 tons, buses and coaches, as well as pickup trucks.
ZF's patented 8-speed gear layout is designed to provide a wider gear range for increased torque at launch and a higher top gear for improved fuel economy of up to 10%. These gear ranges are designed to perfectly step and match with intelligent software further enhancing shift quality, acceleration and overall performance.
PowerLine is designed to minimize moving parts, package all peripheral components inside of the transmission and eliminate excessive external wiring and cables. This thoughtful design architecture is engineered to further enhance the total cost of ownership of PowerLine-equipped vehicles and can improve vehicle uptime.
Equally impressive, ZF PowerLine is loaded with safety features. For example, Autopark is designed to engage the park lock even if the driver forgets to select park or set the parking brake, and Hill Hold is designed to prevent roll back when launching from a stop on an incline.
In October of 2020, global PowerLine production started in Friedrichshafen, Germany, headquarters of ZF's Commercial Vehicle Technology Division. In order to meet the needs of North American customers, ZF is expanding its transmission plant in Gray Court, South Carolina, investing more than $175 million and adding 500 new jobs.
To learn more about ZF PowerLine, visit our product page.
We Appreciate Your Interest!
Thanks for checking out the latest issue of The WABCO News Brake.
We hope you enjoyed reading all about the new and exciting things that are happening in the world of WABCO. You can always learn more by visiting us at wabco-na.com. Be sure to look for our next issue in just a few months. Until then, we wish you all the best. Take care and we'll see you down the road!