Safety, efficiency and reliability: the DNA of all WABCO parts.
You know you're getting the best when you choose WABCO. Every genuine WABCO part is made of high-grade materials and is rigorously tested by WABCO before leaving our factories. And from the moment of manufacture, every part has the full support of WABCO's worldwide customer service network of thousands of authorized dealers and workshops. As a tier one supplier working with the world's leading Original Equipment Manufacturers in the commercial vehicle industry, WABCO has the experience, commitment and scale to meet the most rigorous production and safety standards.
Why WABCO parts stand out from the crowd
Hardened raw material and custom-made tooling deliver production values that cannot be duplicated.
Regular and rigorous audits of all WABCO original equipment manufacturers.
Exhaustive end-of-line tests: meeting the toughest vehicle and road standards.
The most stringent quality standards: WABCO achieves industry-leading ratios in defects per million parts (PPM)
You get more with the WABCO Genuine Parts Promise
Built on 150 years of innovation and design excellence.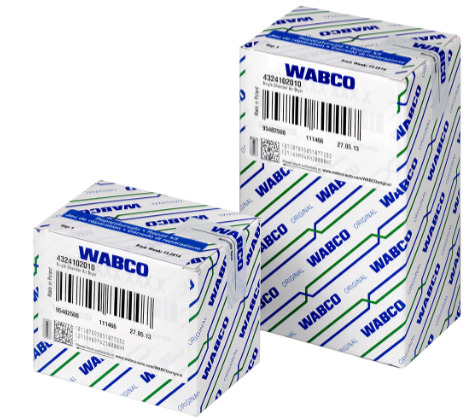 It's easy to identify WABCO original packaging
WABCO's packaging and security labels make it easy to quickly identify a genuine WABCO part:
Step 1: Verify Security Seal
Our Security Seal clearly shows whether a shipment has completed its journey in the logistics chain intact and in its original packaging. The Security Seal is placed on top (either mid, left or right side of the box) to close the box. When a Security Seal has been removed the word "opened" appears in 6 different languages and remains clearly visible even after re-closure.

If you see that the Security Seal has been removed, please contact us.
The silver PrioSpot ® is part of the WABCO label displayed in the lower left corner of the label. Every PrioSpot is unique. No Code will match another one. The four PrioSpot characters should match the last four digits of the unique serial number. In direct light the PrioSpot ® and the WABCO logo shimmer in rainbow colors. In diffuse light only silver and black colors appear. Under direct light a moving character is visible. This Image repeats the last character of the unique serial number.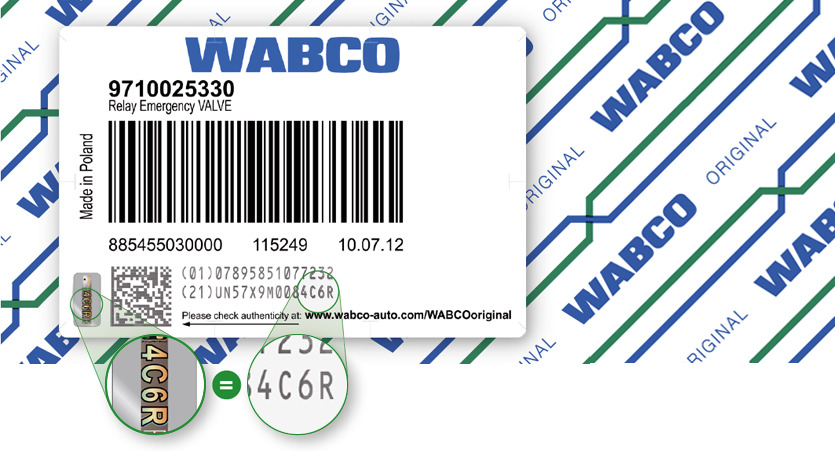 Step 3: Verify Unique Serial Number (MAPP Code)
In order to verify Unique Serial Number (MAPP Code) follow one of the two options

Scan Data Matrix Code with the free NeoReader application or manually enter the unique serial number (MAPP Code) here. IMPORTANT! MAPP Code is case sensitive.