In a previous blog, we discussed the advantages of Air Disc Brakes (ADBs) by examining data from a Federal Motor Carrier Safety Administration (FMCSA) study to illustrate their superior performance. In another, we reviewed a report from the AAA Foundation for Traffic Safety to reinforce their superior safety record. And in each of those discussions we also reinforced how that information relates to increased uptime, extended brake life cycle and driver comfort – all important issues to OEMs and fleet operators when they're considering the balance between value and performance in making braking system decisions.
Data from studies and reports is helpful and offers insight, but how does that data translate to the reality of miles driven on the road? That's what we're going to look at now.
How can we speak with such authority about the advantages of ADB systems?
How can we speak with such authority about the advantages of ADB systems? Because we're leading the way with field-proven technology that we can demonstrate through a real-world, or perhaps we should say "real-road" ongoing Field Test1 of MAXXUS™ 2.0 and MAXXUS™ L2.0 ADB systems. Begun more than two years ago, this Field Test has already logged more than 8.5 million miles and continues to provide important data.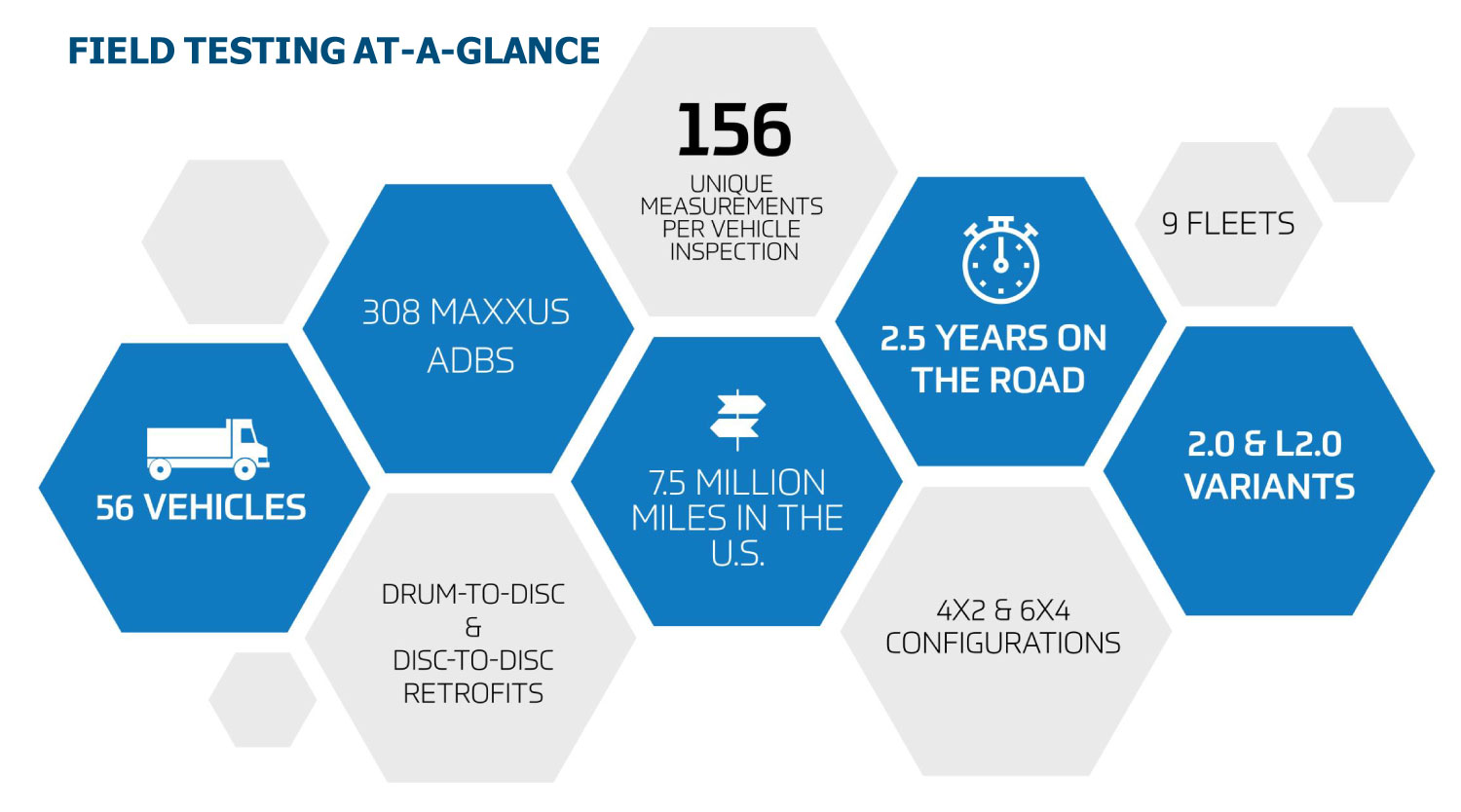 More than 50 commercial trucks, representing nine fleets as well as OEM test trucks, equipped with MAXXUS 2.0 (13) or MAXXUS L2.0 (43) have already been put to the test over 7.5 million miles in the U.S., and an additional 1 million outside the U.S.
The test vehicles include both 4×2 and 6×4 configurations, as well as drum-to-disc and disc-to-disc retrofits; and each one is subject to 156 unique measurements per vehicle inspection. Applications in the Field Test include Local Delivery, Line Haul, and Vocational. So, what have we found? Let's look at some highlights from the latest round of measurements recorded earlier this year.
Projected lifetime pad miles for local and regional delivery averaging 425,000 miles, line haul averaging 895,000 miles, and vocational averaging 379,000
Projected lifetime rotor miles estimated at 906,000 miles.
Rotor runout – Lateral runout values well below the .02" limit, indicating even rotor thickness was maintained.
MAXXUS 2.0 has successfully controlled pad taper wear and differential wear, with all values within specification.
MAXXUS 2.0, with its advanced adjuster mechanism, has successfully maintained optimal running clearances throughout the Field Test. The MAXXUS 2.0 adjuster mechanism is designed to quickly, and continuously, adjust to maintain optimal running clearance in every environmental condition including extreme and long downhill operations, to maintain performance and avoid hot runners.
And it isn't just the data speaking with positive results in this Field Test. Fleet and driver feedback is positive overall as well.  You can read an overview of our latest Field Test data here, but these highlights should indicate that ADB technology – and ZF ADB technology, WABCO MAXXUS 2.0 in particular – offers all the advantages you need on the real road.
1 © ZF Friedrichshafen AG, ongoing – all results as of March 2021.