A Quarterly Look at the World of WABCO
LEADERSHIP CORNER
To our valued customers,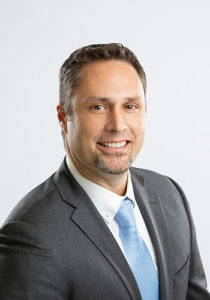 Welcome to the fourth edition of the WABCO News Brake! For those of you I have not met, my name is Julien Plenchette, and I am Vice President of ZF CVCS Americas, having succeeded Jon Morrison in January of this year. I am excited to be authoring this edition's Leadership Corner and providing my perspective on our aftermarket business.
When I assumed this role, I was excited about the challenge and the opportunity at hand with our aftermarket division. In a state of transition, the CVCS NA Aftermarket business was a combination of legacy and start-up. I was impressed with the legacy, which includes respected WABCO technologies, products, services, and brands, and excited about the opportunity for a new beginning from a commercial and distribution perspective.
As I've settled in, I can truly appreciate the resilience and passion of the team over the past year and a half—especially how they were able to integrate the Meritor aftermarket business in such a short amount of time (not to mention during a global pandemic).
Moving forward, our first priority is to continue to build the customer experience that you expect, including delivery excellence, consistent new product releases, product quality, and timely resolution of claims and inquiries. We've grown the aftermarket team significantly over the past 18 months to enable us to become a strategic partner to you and further expand our business together.
We're also continuing to develop digitalization capabilities that provide training and services to all of our aftermarket customers—including distributors, dealers, fleets, service providers and technicians. We're leveraging the experience of our global colleagues who have already launched such offerings to help us optimize what we provide to the market.
For those of you who I've already had the opportunity to meet, I thank you for your time and feedback. I look forward to meeting more of you in the future. And as we get closer to 2022, I will also be eager to share details about the finalization of our integration with ZF and the enhanced customer experience you can expect as a result.
In the meantime, please keep reading for exciting content on the state of our aftermarket business today, including Product News, a Marketing Report, Customer Experience and Tools of the Trade.
Sincerely,
Julien Plenchette
Vice President, Americas
OEM Truck, Bus, Car and Fleet Business Leader, North America
ZF Commercial Vehicle Control Systems Division
We Appreciate Your Interest!
Thanks for checking out the latest issue of the WABCO News Brake.
We hope you enjoyed reading all about the new and exciting things that are happening in the world of WABCO. You can always learn more by visiting us at wabco-na.com.