A Quarterly Look at the World of WABCO
LEADERSHIP CORNER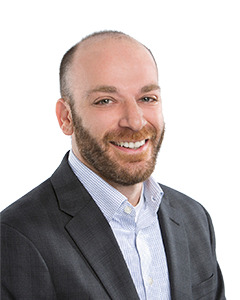 historical acquisition of WABCO by ZF Friedrichshafen AG. This is great news for our customers, as the combination of these two global technology leaders brings a new dimension of innovation and capability for commercial vehicle systems technology.
Under this acquisition, WABCO has been integrated into ZF as its Commercial Vehicle Control Systems (CVCS) Division. By uniting two perfectly complementary portfolios and competencies, this new commercial systems powerhouse will empower you to better serve your customers through a reliable global provider, delivering extensive aftermarket solutions to meet your ever-evolving needs.
It's important to note that in the wake of this acquisition, the WABCO product brand remains intact, and your current sales point of contact will not change.
While it's safe to say this acquisition is front page news, it's certainly not the only newsworthy item I'm proud to share with you in this edition. Keep reading for exciting content including Product News, a Marketing Report, Tools of the Trade and more.
On behalf of all of us at ZF CVCS, thanks for making us "Your Partner in Uptime." We're honored to serve as your go-to source for unbeatable aftermarket products and services.
Sincerely,
Abe Aon
Business Leader, Aftersales, Service & Support – North America
ZF Commercial Vehicle Control Systems Division
PRODUCT NEWS
+ NEW PRODUCT RELEASE
ZF CVCS Makes a Great Diagnostic Tool Even Better!

The latest evolution of WABCO TOOLBOX™ is here—TOOLBOX PLUS™ Diagnostic Software.
Providing an enhanced user experience, TOOLBOX PLUS streamlines vehicle and trailer diagnosis and minimizes downtime. This advanced software features a brand new user interface, support for WABCO's current and latest product releases, and pre-populated warranty forms for direct email to the WABCO Customer Care Center.
To expedite diagnostics, TOOLBOX PLUS has a "roll call" function that automatically detects and populates WABCO systems included on the vehicle. With a simple click, users can diagnose fault codes, view repair and installation instructions and access maintenance manuals. TOOLBOX PLUS also includes aftermarket programming functionality, which enables on-demand programming of replacement ECUs for WABCO truck ABS, as well as the WABCO OnLaneALERT® Lane Departure Warning camera.
Available in 1-, 2- or 3-year subscription options, TOOLBOX PLUS will help you increase your customers' uptime and get their vehicle back on the road quickly.
PRODUCT SPOTLIGHT
WABCO Retrofit Solutions

Your customers can protect their investment by making their vehicle or fleet safer with WABCO's Retrofit Solutions upgrade kits. Designed for easy installation, our kits deliver tractor and trailer safety enhancements across three product groups:
Advanced Driver Assistance Systems
Products include OnSide® Blind Spot Detection, which is a radar-based system that monitors the vehicle's passenger side blind spot to help drivers avoid side collisions. Another collision mitigation offering is OnGuardACTIVE®, a radar-based active safety system that supports accident prevention by helping drivers detect and respond to moving, stopped or stationary objects ahead. To help drivers maintain their lane position, ZF CVCS offers OnLane®, a camera-based system designed to help drivers avoid unintentional lane drifting.
Trailer Safety Systems
This line of products includes Roll Stability Support (RSS) 2M, an advanced roll mitigation system that provides optimum rollover protection, and Enhanced Easy-Stop™ Trailer ABS, a proven ABS system designed to ensure the proper braking force is delivered for trailer stability across various trailer load and road conditions. The product line also features SafeStart Dump Box Position Sensor, which helps prevent accidents and violations by sounding an alarm when the vehicle exceeds a preset programmed speed with the dump body extended.
MICO® Brake Locks
These top quality brake locks are supplemental safety devices that provide additional brake holding when used in conjunction with a vehicle's properly functioning mechanical parking brake.
+ PART SUPERSESSIONS
To ensure you always have the latest WABCO part numbers on hand, we are pleased to announce the addition of a "Part Supersessions" section in our newsletter—which includes details on the part number supersessions from the prior quarter.
MARKETING REPORT
+ NEW Aftermarket Support Web Page
OFFERS FAST ACCESS TO OUR COMPREHENSIVE PRODUCT AND SERVICE PLATFORM

ZF CVCS offers distributors, OE service providers and fleets a comprehensive aftermarket product and service platform designed to maximize uptime and reduce cost-per-mile at every stage of the service lifecycle. To provide convenient access to the services offered within this platform, we recently developed our Aftermarket Support web page.
This "one-stop shop" includes links to our ever-growing range of business tools and technical support resources designed to help you increase your sales and streamline the maintenance and repair processes. This includes rapid access to detailed product information, advanced diagnostic solutions, warranty materials, technical services and parts ordering support, just to name a few.
To learn more about our extensive range of aftermarket products and services, visit our Aftermarket Support web page »
+ Stay Current with the Latest WABCO Literature Releases

To better serve our customers, ZF CVCS is always looking for ways to innovate new products and services, and update ones we already offer. For this reason, we often publish new literature. Here are the latest releases:
CUSTOMER EXPERIENCE
The WABCO Service Partner Program
GREAT FOR YOUR CUSTOMERS, GREAT FOR YOU
Nothing describes our commitment to fleet operators more suitably than the phrase "Your Partner in Uptime." But in order to make such a claim, we need to stand behind it with tangible, real-world support. And that's what the WABCO Service Partner (WSP) program is all about.
Through the WSP program, ZF CVCS certifies vehicle service facilities that provide maintenance, repair or replacement of WABCO's suite of products for trucks, trailers, off-road equipment and other vehicles including buses and RVs. The goal of the program is to increase uptime for customers, getting them back on the road as quickly as possible.
Certified WSPs have undergone specialized training by ZF CVCS technical experts to attain extensive knowledge of WABCO products and services. This can go a long way in building customer loyalty, as customers will rest assured knowing that if service is performed by a WSP, it is done by a highly trained, ZF CVCS-endorsed provider.
Interested in becoming a WABCO Service Partner? If your facility excels in all areas of training and safety standards, and if you're a proven industry leader in the work you do, the WSP program could be a perfect fit.
We Appreciate Your Interest!
The WABCO Literature Center
YOUR GO-TO RESOURCE FOR ALL WABCO PUBLICATIONS
Thanks for checking out this issue of The WABCO News Brake.
We hope you enjoyed reading all about the new and exciting things that are happening in the world of WABCO. You can always learn more by visiting us at www.wabco-na.com. Be sure to look for our next issue in a few months. Until then, we wish you all the best. Take care and we'll see you down the road!
TOOLS OF THE TRADE
The WABCO Literature Center
YOUR GO-TO RESOURCE FOR ALL WABCO PUBLICATIONS

Have you visited the WABCO Literature Center lately? Designed with our customers in mind, you'll find convenient access to our extensive literature library, including sales brochures, parts catalogs, technical publications, maintenance manuals and more. Simply browse by category or search by document name or publication number. Equally impressive, downloading or ordering printed materials to your business is extremely easy.
Of course, the self-service WABCO Literature Center is available 24/7. Stop by at any time and check it out!