Fast and Easy repair with WABCO Workshop Solutions
The most advanced and smartest high-tech tools, software and services to diagnose, retrofit, maintain and repair all commercial vehicles efficiently.
Medical specialists and commercial vehicle repair professionals face pretty much the same challenges. They both have to examine (sometimes vague) reported symptoms, find the cause, and suggest an appropriate treatment to cure the problem. Treating the patient is easy. But to come up with the right diagnosis, you need a medical degree, experience and a lot of specialized equipment.
Repairing commercial vehicles is easy too. When you know the cause of moist in a vehicle, it's no real challenge to replace the window seal. And once the ECU has told you the problem, changing the defective component on your trailer or truck is fairly easy too. Setting the right diagnosis is a specialist's work. This is what your customers expect from you, no less. You need all your knowledge and experience to detect the problem. And still, without the right tools, it is sometimes a trial and error you actually can not afford.
To make your job easier, WABCO now provides you with a complete range of high-tech diagnostic tools for commercial vehicles. With WABCO, you're the specialist.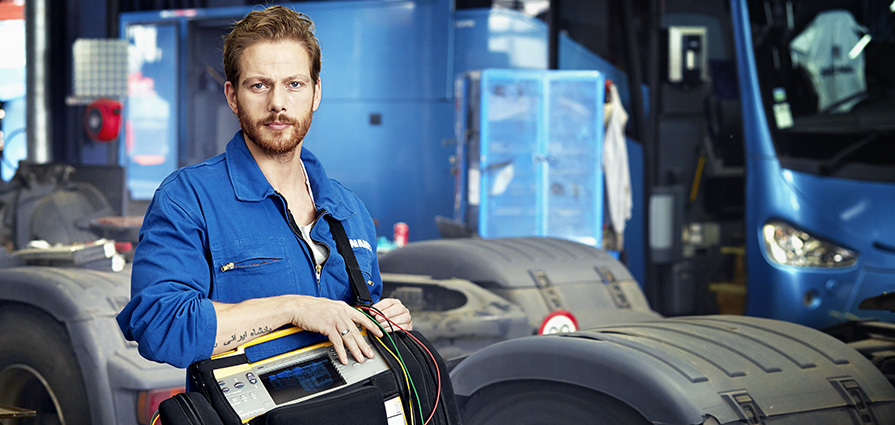 WABCO System Diagnostics (SD)
Say goodbye to vague driver complaints and the wasted time of technical guesswork. This vital solution offers direct access to the Electronic Control Unit – quickly and accurately identifying the issues.
WABCO System Diagnostics (SD) offers a range of Windows-based software solutions (plus all the hardware necessary to carry out diagnostic work on most of the WABCO system, such as EBS, ECAS, ACC).
WABCO SD software is available for nearly every WABCO-produced component needing diagnosis, both as a single download or as separate bus, truck and trailer packages. They are available in 23 different languages and the regular software updates / upgrades are easy to download.
'W.EASY' from WABCOWÜRTH is the world's first system to integrate the WABCO system diagnostics into a single, comprehensive solution that works on different makes of commercial vehicle.
The WABCOWÜRTH multi-brand diagnostic solution is supported by a broad range of services and training courses. Product hotlines for customers are available in various languages so technicians can get immediate brand-specific help. And in the long term, our practical training courses and e-learning programs keep them fit for the ongoing challenges of a workshop business.
Our Diagnostics hardware completes the complete System Diagnostics package offering an easy-to-use blink code plug, digital testers, conformity test unit, adapters and cables, plus a complete test bench.
Remote Diagnostics
WABCO's remote diagnostics solutions TX-DIAGNOSTIX monitor the technical performance of medium- and heavy-duty commercial vehicles on the road. The system enables fleet operators to detect onboard system failure modes early and optimize vehicle maintenance schedules. WABCO's remote diagnostics solution is the first in Europe to offer fleet operators a remote diagnostics platform that supports multiple brands of commercial vehicles and is able to integrate it within a fleet management system (FMS).
WABCO's remote diagnostics leverages the unique synergies between WABCO leading Fleet Management Solutions suite and WABCOWÜRTH Workshop Services.
Co-developed with WABCOWÜRTH, WABCO's remote diagnostics works with WABCO's TX-SKY on-board computers to monitor different electronic vehicle systems including engine control, braking, locking system, air suspension, air bags, driver support systems and many more. Data is transmitted to its fleet management back office software platform TX-CONNECT, which analyzes and translates it into easy-to-understand maintenance and service information within the FMS portal.
Tools and Equipment
Parts & Tools Cleaning Solution: The safest and most efficient parts & tools cleaning solution for  your workshop.
Testing: The most sensitive testing devices, giving you the most reliable results.
Tools: The most durable tools for optimal repair and maintenance of your WABCO products and systems.
Training Programs
WABCO ACADEMY offers a range of technical training programs covering the installation, diagnosis, and maintenance of commercial vehicle air braking systems. It also provides training from electronically controlled braking and driving dynamics control systems developed and manufactured by WABCO.
The WABCO ACADEMY product and technical training can be accessed in 18 training centers worldwide as well as via our extensive global online training course via the WABCO Online Academy.