Choose TX-FLEX SOLO for easy collaboration with freelancers and subcontractor drivers. Download our Android driver app that's flexible and easy-to-use.
Managing each stage of the distribution network is a huge feat for any logistics manager, coming with more than its fair share of complications and challenges to overcome. Maintaining complete visibility of drivers, vehicles, locations, cargo, collection and delivery times, all while ensuring customers are happy, is not the easiest to achieve unless you have access to real-time data.
Add subcontractors into the mix and it becomes even more important to have a comprehensive overview of the whole operation, as well as the need for full and clear collaboration between drivers and the office. WABCO's TX-FLEX SOLO delivers the ideal solution to let you stay in touch with drivers on the road.
TX-FLEX SOLO for drivers
Created to provide a smart collaboration with your subcontractors and distribution drivers, TX-FLEX SOLO is a driver app for Android smartphone users. Aimed at freelance and distribution drivers, the app is accessible on personal smartphones or via an industrial PDA for easy access wherever they are. Integrating with the TX-CONNECT back office software to create a powerful management tool, TX-FLEX SOLO enables you to efficiently manage the drivers in your network. The link with TX-CONNECT allows planners in the office to stay in touch with drivers on the road to retain control over the entire process.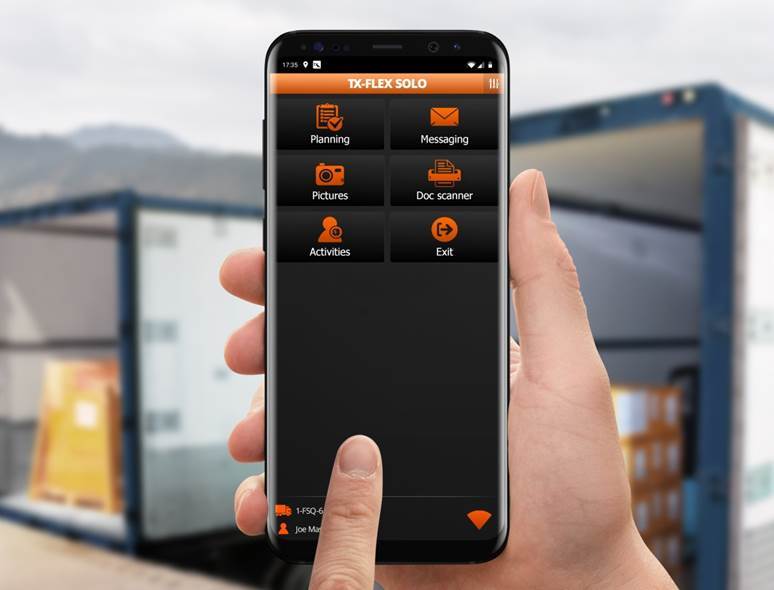 TX-FLEX SOLO makes it easy to work with freelance or subcontracted drivers by integrating them directly into your TX-CONNECT working environment. Simple installation and intuitive user interface help to ensure operational efficiency and transparency. Independent from any fixed telematics solution, it increases flexibility and efficiency by facilitating driver activities on the road.
TX-FLEX SOLO is a flexible and easy-to-use driver app for easy collaboration with freelancers and subcontractors.
TX-FLEX SOLO features
Keeping in touch with your drivers has never been easier. TX-FLEX SOLO's flexible app integrates with home base software for a simple yet powerful management overview of subcontractors and distribution drivers and their position within the network.
The key benefits of TX-FLEX SOLO include:
Simplified fleet management with trucks, trailers, drivers and freelancers all in one back office platform
Optimized order management
Increased operational transparency
Facilitated driver activities on the road
Enhanced customer service
The app delivers a wide range of functionality. You can keep drivers informed by simple text messages and receive updates, including photos taken by the driver. The app enables driver access to maps and provides position updates on the back office software. With vehicle, driver and trailer identification on view, activities can be easily monitored in real-time. In brief, TX-FLEX SOLO's main features include:
Text messaging
Activity follow-up in real-time
Structured 4-level planning
Truck navigation via Google Maps (online) or Sygic (offline)
Barcode scanning
Document scanning
Pallet handling
Digital signatures
Integrated picture transfer of images taken by driver
Track and trace on TX-CONNECT map with regular position updates
Integration with digital CMR for improved administration and billing
Choosing to invest in TX-FLEX SOLO will provide your fleet organisation with an easy way to keep in touch with drivers and what's happening on the road.